Moochie is no longer with us...This page will remain as a Memorial to one of the best stallions and friends we have had the opportunity of knowing in our lives....we miss you Mooch!
HE WILL MISSED BY ALL AS HE WAS FAMILY
REST IN PEACE BIG MAN
ONE OAK - APHA SORREL OVERO STALLION
One-Oak - "When the Family Tree Say's it All. "
Quality breeding. A long list of champion's blood flows in his veins, including Eternal Echo, Eternal Mount, and Chiquita Banana. His parents are some of the best in the Paint Horse and Quarter Horse industry. He stands at 15.2 hands and weighs 1175 lbs.

"Moochie", as he is fondly called, was acquired at 18 months of age. That was in March of 1997. Since that time he has been shown in Open Shows in our area, with some very stiff competition. Showing is serious business in our area, and "Moochie" has ridden against horses that have placed at the World and at the Congress. He has proven that he can perform with the best of them as a wall full of ribbons will attest. He is now retired to the trails.
His calm disposition has allowed us to trail this stallion extensively. He has been ridden in several states on some very large rides. We often find ourselves having to remind others that he is a stallion. His relaxed manner on the trail and while standing on picket lines next to mares, always amazes other riders. He is quite and knows his manners. "Moochie" is proving to be a top trail horse. He has officially logged over 1000 trail hours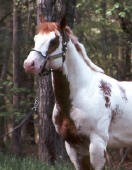 in the APHA Ride America program. Let him produce your next "Paint Trail Horse."
Intelligent, Colorful, Talented, Nice Mover, and Willing Partner with a desire to please. He has all the factors needed to produce your next show champion or "Trail Paint Horse."
One Oak is part of the family. He trails and shows.

$400 LFG
Cool Shipped Semen Available

Click here to see pedigree."The Family Tree Say's it All!"

For more information click here to E-Mail One Oak Farm.